It's time for Nancy's 4th Annual Family Fun-Raiser BBQ
Online ticket sales are now closed. For more information, visit the BBQ Page.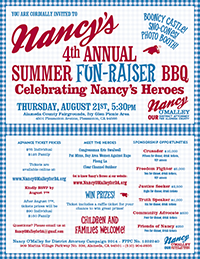 Download a pdf of the invitation.
On August 21, 2014, I will be hosting my 4th Annual Summer Family Fun-Raiser BBQ at the Ivy Glen Park Picnic Area of the Pleasanton Fairgrounds in Pleasanton.
Last year, the BBQ was a great success with nearly 650 in attendance. We will have a bouncy castle, face painting and sno-cones for the kids, a photo booth and a raffle with lots of great prizes including an iPad! You will have a chance to meet and get to know my heroes while enjoying dinner and drinks with friends and supporters.
I look forward to seeing all of you on August 21, 2014!
Thank you.
Nancy O'Malley
---
Hi! I'm Nancy O'Malley, District Attorney of Alameda County.
Thank you to all supporters and the residents of Alameda County. The votes are counted and I am officially re-elected to serve as District Attorney of Alameda County. The right to vote and electing civic leaders is a cornerstone of our democracy. It is what makes America the best government system and the best country in the world.
I remain honored to continue to serve as your elected District Attorney. I commit to all of the residents of Alameda County and my supports to maintain the highest level of integrity, honesty and professionalism in upholding and ensuring public safety.
I have the highest praise for and thank the amazing professionals who serve in the Alameda County District Attorney's Office. It is they who make this Office the best in the country.