---
DA O'MALLEY HONORED WITH PRESTIGIOUS AWARD FROM AMERICAN BAR ASSOCIATION
By Alameda County DA's Office
April 26, 2016
The Alameda County District Attorney's Office is pleased to announce that Alameda County District Attorney Nancy E. O'Malley has been selected by the American Bar Association as a 2016 recipient of the Margaret Brent Women Lawyers of Achievement Award. DA O'Malley, who has served as the District Attorney of Alameda County since 2009 and the first woman to hold that position, is now the first District Attorney in the nation to receive this prestigious award from the ABA.
The Margaret Brent Women Lawyers of Achievement Award, established by the ABA Commission on Women in the Profession in 1991, recognizes and celebrates the accomplishments of women lawyers who have excelled in their field and have paved the way to success for other women lawyers. Honorees receiving the Margaret Brent Award have achieved professional excellence in their field and influenced other womn to pursue legal careers, opened doors for women lawyers in a variety of job settings that historically were closed to them, and/or advanced opportunities for women within a practice area or segment of the profession. Read more...
---
NANCY O'MALLEY: BRINGING JUSTICE FOR VICTIMS OF CHILD SEX TRAFFICKING
By Irvine Foundation
Februrary 5, 2015
Commercial sex trafficking affects thousands of children and young adults in California. Historically, exploited children have been arrested by law enforcement for commercial, sex-related criminal conduct and often prosecuted in juvenile court. Traffickers and those purchasing children for sex are rarely held accountable.
After witnessing a dramatic increase in cases of exploited youth in the City of Oakland, Nancy O'Malley, District Attorney of Alameda County, created a program that shifts law enforcement's approach to the issue — treating exploited minors as victims rather than criminal offenders. Read more...
---
ALAMEDA COUNTY DA, CATHOLIC CHARITIES TO PROTECT SEX TRADE VICTIMS
By Jenna Lyons, SF Chronicle
December 8, 2015
Alameda County's District Attorney's office is teaming up with Catholic Charities of the East Bay to provide safe houses for victims of the child sex trade, officials announced Tuesday.
The organizations plan to create a safe home in the Bay Area by the end of 2016 that caters to girls recovering from child sex-trafficking, a black market that Assistant District Attorney Teresa Drenick said is rampant in the area.
"The Bay Area, and Oakland in particular, has been designated by the FBI as one of the nation's hotspots for trafficking children," Drenick said. "The scope of the problem, not just in the Bay Area but the state and the nation is pretty staggering. I think that it is something that is more at the forefront of our conscience." Read more...
---
COMCAST TO PAY $26 MILLION FOR ILLEGALLY DUMPING EQUIPMENT
By Bob Egelko, SF Chronicle
December 16, 2015
Comcast has agreed to pay nearly $26 million to settle claims by the state and Alameda County that the company routinely and illegally dumped hazardous electronic equipment into local landfills and failed to shred records that contained customers' names, addresses, and phone numbers.
Investigators found that since 2005, the cable company's dispatch and warehouse facilities throughout California had been sending used remote controls, modems, amplifiers and other electronic gear to landfills that were not supposed to receive them, Attorney General Kamala Harris' office said Tuesday in announcing the settlement. Read more...
---
INTERVIEW WITH DA NANCY O'MALLEY ABOUT BACKLOGGED RAPE KITS
By Hana Baba, KALW
November 5, 2014
When a rape is reported, the victim is medically examined, and the biological evidence acquired in that exam is called a "rape kit." That rape kit is used by prosecutors who try to bring the perpetrator to justice.
At least that's what is supposed to happen. But in many cases, it doesn't. Last month, a state audit found that half of all rape kits at the Oakland Police Department were never analyzed. Rape kit backlogs, it turns out, are plaguing the state. In Alameda County alone, the audit found close to 2,000 untested kits, dating back to 2001...
---
ALAMEDA COUNTY DA HONORED WITH TWO NATIONAL AWARDS
By Alameda County DA's Office
April 10, 2014
The United States Congressional Victims' Rights Caucus awarded Alameda County District Attorney Nancy E. O'Malley the Lois Haight Award of Excellence and Innovation for her outstanding contributions to the field of victims' rights today. This award honors a professional whose efforts have had a significant impact on local, state, national or international public policy development and implementation that promote dignity, respect, rights and services for victims of crime.
Congressman Eric Swalwell, who presented the award to D.A. O'Malley commented, "I'm privileged to have presented Nancy the prestigious Lois Haight Award of Excellence and Innovation from the House Victims' Rights Caucus. Nancy's creative initiatives and advocacy are helping to make life better and bring justice to victims across Alameda County and the nation. She is a true and tireless champion for victims, and I can think of no one more deserving of this award." Read more...
---
DA NANCY O'MALLEY PUTS THE H.E.A.T. ON HUMAN TRAFFICKING
By Pat Lynch, Women's Radio
June 21, 2013
District Attorney of Alameda County, Nancy O'Malley, is a nationally recognized expert in the advancement of victims' rights. She also has national and statewide recognition as an expert in areas including violence against women and interpersonal violence, including sexual assault, domestic violence, elder abuse, child abuse, and stalking/threat management. She is an expert in ethics and discovery and has written statewide protocols in those areas. Nancy joinsSpeak Up!to tell us about the work she is doing to help keep young and vulnerable children safe from human trafficking and commercial sexual exploitation through the program she launched called H.E.A.T Watch.
Listen to the radio interview here.
---
I-TEAM FINDS UNTESTED RAPE KITS IN THE BAY AREA
By Dan Noyes, ABC 7 News San Francisco (KGO)
May 13, 2013
I-Team reveals that Bay Area law enforcement agencies are not always testing DNA evidence collected in rape investigations. Thousands of untested sexual assault kits are sitting on shelves of local police departments.
Advocates and survivors tell us all sexual assault kits should be tested. It could help convict the attacker and possibly link him to other crimes and at the very least, it sends the message to the victim that police are taking the crime seriously.
"Sexual assault crimes are some of the most horrendous crimes that could happen to somebody," said Alameda County District Attorney Nancy O'Malley.
O'Malley is on a mission to test every sexual assault kit in her county. She is starting with almost 2,000 kits sitting in police property rooms. Continue reading...
---
NANCY O'MALLEY AND TONY SMITH: WE MUST WORK TOGETHER TO GET CHILDREN TO ATTEND SCHOOL
By Oakland Tribune
September 6, 2012
On Aug. 27, Oakland Unified School District students headed back to school. Sadly, far too many Oakland students missed that first day and continue missing so much school that they put themselves at academic risk.
In fact, nearly one in seven Oakland students misses nearly a month of school every year, a trend that starts for some children as early as kindergarten.
Children who are chronically absent in kindergarten and first grade are much less likely to read well by the end of third grade, and are more likely to have poor attendance in later grades.
By middle and high school, chronic absence is a proven early warning sign that a student will drop out. Read more here...
---
NANCY O'MALLEY '77, FIRST FEMALE DISTRICT ATTORNEY OF ALAMEDA COUNTY
By California State University, East Bay
June 28, 2011
The law has long been part of Nancy O'Malley's family —her father was DA of Contra Costa County from 1969 to 1984 — but O'Malley couldn't imagine a legal career when she was young. "I spent my grade school years in trouble for having a big mouth," she recalls; her outspoken opinions were considered disrespectful.
After high school, she worked for a couple of years at a photo-processing firm before enrolling at what was then Cal State Hayward. University life thrilled her. "Once I got there, I loved it," she says. "The classes were stimulating and engaging." Volunteering at a rape crisis center led her to a political science major; "I could see politics at work against victims of crime," she recalls. O'Malley idolized Professor J. Malcolm Smith (whom she remembers as "engaging, smart, nice, and very accessible"), dreamed of an academic career, and wrote a senior thesis on upstart gubernatorial candidate Jerry Brown.
She enrolled in Golden Gate University School of Law, graduating in 1983. Nine months later she applied to the Alameda County DA's office. "What drew me here was not so much public service as the opportunity to go to trial," she says. Read more...
---
BEATING CANCER SHAPED CAREER PATH FOR ALAMEDA COUNTY DISTRICT ATTORNEY
By Paul T. Rosynsky, Oakland Tribune (via FJCA)
January 3, 2010
OAKLAND — A year after graduating from college, Alameda County District Attorney Nancy O'Malley was diagnosed with lymphoma, sparking a battle that taught her lessons she continues to employ today.
O'Malley, 56, defeated the illness with a year's worth of chemotherapy, but the lessons she learned through the ordeal — and those that were instilled in her as one of nine children of longtime Contra Costa County District Attorney Bill O'Malley — changed the way she viewed life. Read more...
---
O'MALLEY LOOKS TO MAINTAIN "SUPERIOR TRADITION"
AT ALAMEDA COUNTY DA OFFICE
By John Grennan, OaklandNorth.net
October 26, 2009
During a recent morning at the Alameda County Supreme Court building in Oakland, lawyers with arms full of legal briefs raced in and out of the District Attorney's office on the top floor.
These members of the county's legal team were busy preparing court cases dealing with everything from the BART station shooting of Oscar Grant to white-collar crime and street-corner drug deals. Decisions made here directly affect the safety and security of the more than 1.4 million people living in a county that includes Oakland, Berkeley and Fremont. Read more...
---
MONDAY PROFILE: DISTRICT ATTORNEY NANCY O'MALLEY
By Michele Ellson, The Island
October 12, 2009
On September 15, the Alameda County Board of Supervisors appointed Alamedan Nancy O'Malley to fill the remainder of longtime District Attorney Tom Orloff's term, making her the first woman DA in the county's history. Read more..
---
BART SHOOTING CASE A TRIAL BY FIRE FOR NEW D.A.
By Phillip Matier and Andrew Ross, San Francisco Chronicle
May 19, 2010
The upcoming murder trial of ex-BART police Officer Johannes Mehserle promises to be quite a high-wire act for Alameda County's new district attorney, Nancy O'Malley.
O'Malley's crew began setting up shop this week in an L.A. hotel in advance of jury selection, which is scheduled to begin June 1.
Having inherited the politically explosive case from her former boss, ex-D.A. Tom Orloff, O'Malley is not shying away. In fact, she plans to be on hand in Los Angeles for the opening statements. Read more...
---
OAKLAND FIGHTS SEX TRAFFICKING
By Angela Woodall, Oakland Tribune
April 3, 2010
OAKLAND — On any given night on International Boulevard, workers from the Victory Outreach Oakland church encounter more than a dozen victims who have been forced into prostitution. Many are victims of sex traffickers. A disturbing number are teenagers as young as 13. Read More ...
---
LAWYER ACCUSED IN BAY AREA FRAUD SCHEME SURRENDERS
By CBS5
March 30, 2010
OAKLAND -- Alameda County District Attorney Nancy O'Malley said Tuesday that Los Angeles attorney Susana Ragos Chung surrendered on an arrest warrant for her alleged role in a widespread automobile insurance fraud scheme in the Bay Area.
O'Malley said Chung has been charged with 28 felony offenses following a long investigation known as "Phantom Menace" that was conducted jointly by the Alameda County District Attorney's Office, the fraud division of the California Department of Insurance and the California Highway Patrol. Read more…
---
COMMUNITY POLICING: WHO ARE OAKLAND'S ADVOCATES AND
DOES THE CITY COUNCIL GET IT?
By Mike Ferro, OaklandLocal.com
March 25, 2010
MOBN! members should be aware that we have another progressive leader in Oakland with regard to our public safety: Nancy O'Malley Alameda County District Attorney. Like Chief Batts, O'Malley is extremely-well informed, progressive, efficient, knows what she is doing and has strong leadership qualities. Also like Batts, she is articulate and accessible.Read more…
---
O'MALLEY WILL RETAIN POST AS ALAMEDA COUNTY'S DISTRICT ATTORNEY
By Jeff Shuttleworth, Bay City News
March 13, 2010
Alameda County District Attorney Nancy O'Malley was assured of another four years in office today when no one filed papers to challenge her in the June 8 election.
A group of about 30 prosecutors from her office who joined her at the Registrar of Voters office in the basement of the Rene C. Davidson Courthouse cheered O'Malley when the 5 p.m. filing deadline passed. Read more…
---
O'MALLEY OFFICIALLY ENTERS RACE FOR ALAMEDA COUNTY DISTRICT ATTORNEY
By Paul Rosynsky, Oakland Tribune
March 8, 2010
OAKLAND -- Alameda County District Attorney Nancy O'Malley officially filed papers today to become a candidate for the seat she was appointed to six months ago.
O'Malley, 56, who declared her candidacy on the day she was appointed, said in a statement she is running because of her commitment "to the pursuit of justice."
Read more…
---
WITH FAMILY JUSTICE CENTER, COUNTY IMPLEMENTS COMPREHENSIVE APPROACH AGAINST DOMESTIC VIOLENCE
By John Grennan, OaklandNorth.net
December 28, 2009
On the first Friday of every month, people in Department 4 of the Rene C. Davidson Courthouse testify about bruised faces and broken bones. Judges in the downtown Oakland courthouse often hear stories of violence, but these are different. In each case, the victim and aggressor were in a romantic relationship.
Read more...
---
ALAMEDA COUNTY'S NO.2 PROSECUTOR GETS TOP JOB
By Henry K. Lee, San Francisco Chronicle
September 16, 2009
OAKLAND -- The Alameda County Board of Supervisors voted Tuesday to appoint outgoing District Attorney Tom Orloff's second-in-command to lead the office pending an election next year.
Read more...
---
CWL PRESIDENT NANCY O'MALLEY NAMED FIRST WOMAN
DISTRICT ATTORNEY OF ALAMEDA COUNTY
By CWL.org
September 15, 2009
On September 15, 2009, CWL President Nancy E. O'Malley was appointed the District Attorney for Alameda County. Ms. O'Malley is the first woman to serve in this position. Prior to her appointment, since 1999, Ms. O'Malley has served as the Chief Assistant District Attorney for Alameda County. Read more…
---
PERATA CARJACKER GETS 18-PLUS YEARS IN PRISON
By Henry K. Lee, San Francisco Chronicle
August 13, 2009
OAKLAND -- A defendant in the Oakland carjacking of former state Senate President Pro Tem Don Perata has been sentenced to more than 18 years in prison, a prosecutor said Wednesday.
Ryan McGough, 29, was one of two men who carjacked Perata on Dec. 29, 2007. Ten days later, the other carjacker, Jared Adams, robbed a gas station during which he fired shots. One of the bullets paralyzed a 10-year-old boy as he practiced the piano at a music school across the street. Read more...
---
PARALYZED BOY TO GUNMAN: 'I FORGIVE YOU'
By Demian Bulwa, San Francisco Chronicle
June 17, 2009
OAKLAND -- The 12-year-old boy paralyzed by a robber's stray bullet as he was taking a piano lesson in Oakland last year had a message for the gunman Tuesday:
"I forgive you."
Christopher Rodriguez delivered his words after rolling in his wheelchair to the front of the Oakland courtroom where Jared Adams, 26, had just been sentenced to 70 years to life in prison. Then he shook the convicted man's hand.
Read more...
---
ONE STOP SHOPPING: PUTTING AND END TO DOMESTIC VIOLENCE
By Oakland Magazine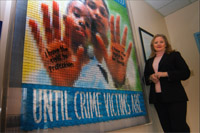 June 2006
LaToya (not her real name) is bipolar, has lost custody of her daughters and lives in a domestic violence shelter. She was recently hospitalized after her partner attacked her. It wasn't the first time he abused her--he has repeatedly physically and sexually assaulted LaToya.
"Why do I continue to choose men who abuse me? I want to be at peace," she says in a spring interview at the Alameda County Family Justice Center. "This situation has made me get serious about life." Read more...
---
CHRONICLE WATCH RESULTS: WORKING FOR A BETTER BAY AREA
By Suzanne Pullen, San Francisco Chronicle
October 4, 2005
Volunteers help Alameda County victims: More than two dozen ChronicleWatch readers answered last month's call to help victims of violence at Alameda County's new Family Justice Center.
Nancy O'Malley, chief assistant district attorney for the county, said 27 volunteers signed up after reading about the pilot program that is designed to streamline aid to victims of domestic, sexual and child abuse.
Read more...
---
THIS INFLUENTIAL EAST BAY FAMILY BOASTS JUDGES AND LAWYERS
IN ALAMEDA AND CONTRA COSTA
By Sonia Giordani, The Recorder
April 28, 2000
It's one thing to have a pair of prosecutors for parents. Now, Jake O'Malley, 5, and his 3-year-old brother, John, are entering their pleas for toys and negotiating lighter bedtime sentences with two Contra Costa Superior Court judges.
Read more…